Welcome to Iris Hills Farm! We are now taking orders for 2018.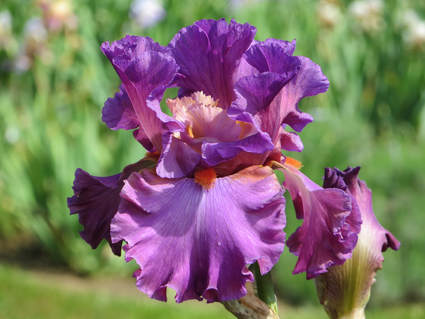 My Very First Introduction!
​My Missus Carter (C. Campbell 2018)
​$50
​Limited Supply
I am extremely excited to be offering my very first introduction this year. Tall and stately, My Missus Carter shines in the garden with its bright cranberry-purple flowers. Orange beards and chocolate shoulders add the perfect finishing touches to this beautiful flower. With 42" tall stalks, vigorous growth, good branching, and eight buds, My Missus Carter is striking in the garden. This iris is named after a very special lady, my adopted grandma. The real Mrs. Carter was ecstatic to learn that her iris namesake had won the American Iris Societies' Region 4 Alice Bouldin Cup, an award for the favorite seedling seen in the garden at the spring regional convention, in 2017. She came with me to the fall convention, where we accepted our award together, grinning from ear to ear.
---
The irises are in bloom mid April- late May. If you would like to come visit the gardens in person , please call 540-868-2123. The iris gardens are open by appointment Monday-Saturday. I am growing over 250 varieties of iris, including over 40 medians( irises from 8-28 inches tall) and many cold hardy reblooming irises! Often in late October the gardens seem almost like spring with more than 20 irises in glorious bloom! Please order early to ensure that the varieties you want will be in stock. Enjoy viewing the photos of the irises and reblooming irises that I have for sale. I am so thankful that God has created irises with such diverse hybridizing potential, in so many colors, types and sizes. I am also thankful that He has put me in touch with so many wonderful people through my love of irises.

If you would like to order iris plants, go to the Order Form page where you can download my order form and print it out, then mail the completed form and your check to me at 465 Chapel Road, Middletown, VA 22645. Irises are reserved on a first come - first served basis as paid orders are received.

Most of the irises are $5-12 dollars, with some newer varieties running $15-50 dollars.
I am set up to ship irises within the continental United States.