I had waited two and a half years after planting my first seeds before they bloomed (Spring 2014). It was such a joy to see one after the other open up. Then came evaluating each seedling to see if it had enough desirable qualities to reselect. Here are photos of some of my favorites out of that first crop of seedlings, with descriptions. All three happen to be in the same general color family, but with very individual personalities.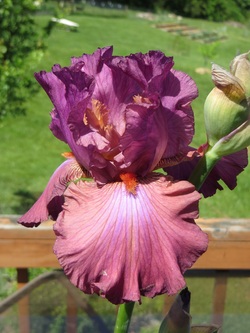 Seedling 2011-2-1
Parentage: Flame Amber (K. Keppel 2008) X Linda Laing (D. Spoon 2011)


This flower has unique, subtle coloring, predominantly raspberry with copper, purple and greyed hues.
I took it to the 2014 Regional for Region 4, where I entered a stalk in the iris show. The photo was taken after I returned from the show, when the last couple flowers were blooming. At the show, American Iris Society Judges who were not judging the show have the opportunity to give their opinion about seedlings by casting paper votes. If a seedling receives at least 5 votes it receives an Exhibition Certificate ( called an EC), an entry-level award. 2011-2-1 won an EC!

Seedling 2011-2-2
Parentage: Sibling to 2011-2-1 (Flame Amber X Linda Laing)

This may turn out to be border-bearded size.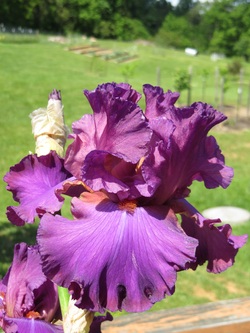 Seedling 2011-3-1
Parentage: Unknown (orange) X Lullaby of Spring (Schreiner's 1987)

This was a very welcome surprise, as it has very modern, ruffled form. It was a surprise, though, since both parents are older, and the seedling is a big improvement in form on both of them!

High bud count plus triple socketed terminals on first year bloom! Chocolate colored shoulders.